What defines a Western film?
It almost goes without saying that a western film is set in the American west, almost always during the period of greatest western expansion and settlement that we recognize (around 1840 to 1890). A genre filled with cowboys, sheriffs and the evil villain who almost inevitably gets killed in a shootout right before the end of the film.
What are the key codes and conventions of a western?
Props– Hay Bales, Tumbleweeds, Branding Iron, Lasso Ropes, Leather Chaps, Rustic, Wagon, Barrels, Wagon Wheels, Weathered Crates, Rocks, Large Cactus, Cactus Clusters, Cigar Store Indian Statue, (Triangle) Dinner Bell, Revolvers, Horses, Stenson hats and even cows.
Characters– Cowboys serve as the main heroes in the western genre much like the samurai warriors were to the Japanese genre and the knights were to the medieval genre, this could be a big reason a few famous westerns have been based on older movies. Kurosawa's Yojimbo (1961) served as the prototype for Clint Eastwood's A Fistful of Dollars (1964), and Kurosawa's The Seven Samurai (1954) was remade as John Sturges' The Magnificent Seven (1960), both of which were extremely successful westerns as they all followed the code of honor, all bound by legal codes of behavior, ethics, justice, courage, honor and chivalry much like the samurai and the knights. Much like in every movie there is always an attractive woman that the hero saves in the end who he carries off on his horse.
Typical western villains always seem to follow the same code, they always wear black Stenson's not the conventional white/beige, they tend to waste no time in murdering the first rancher who crosses them and they are conventionally men. They are the kind of calculating mercenary who dons black leather gloves before whipping out his pistol as seen in this photo of Jack Wilson.
Plot: Usually, the central plot of the western film is the classic, simple goal of maintaining law and order on the frontier in a fast-paced action story. It is normally rooted in a conflict between good vs. bad, white hat vs. black hat, new arrivals vs. Native Americans (inhumanely portrayed as savage Indians), settlers vs. Indians, villains vs. heroes, lawman or sheriff vs. gunslinger. Often the hero of a western meets his opposite "double," a mirror of his own evil side that he has to destroy in a dramatic duel usually a standoff in which the protagonist kills the villain. Much like in every movie there is always an attractive woman that the hero saves in the end who he carries off on his horse into the sunset.
Camera techniques are a plenty in western films, Tracking shots with steady cams are used to shoot scenes when they are on horses or transport. In bar fights, close ups are used to show character's emotions and to show the tension that is arising before the brawl or the standoff. When showing off the costume/ props/ guns there are also usually close ups to show the detail of the weapon and build tension. There are usually setting shots/ panning shots to establish the setting and the scene. There is also usually a fade to a piano player before or after a bar brawl to reduce/increase the tension.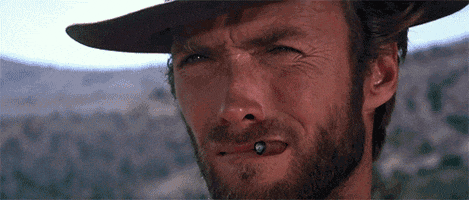 3 key westerns
–The good, the bad and the ugly
This movie revolutionized the western genre as Clint Eastwood and Leone changed the rules of the spaghetti western and made it mainstream.
-Butch Cassidy and the Sundance kid is a classic western because the father of all bromances, and the birth of mainstream comical westerns, Paul Newman and Robert Redford play it loose and for big laughs as affable outlaws Butch Cassidy and Sundance in what became a classic western comedy.
– Clint Eastwood's 1992 multiple Oscar-winner 'unforgiven'  is probably this actor-director's profoundest work. Not only is it a western, it's also about the flawed mythology of the genre. It tackles the stereotypes of the genre and paves the way for more westerns not to have the 'cliché' protagonist.
3 Recent Westerns, Succesful?
–The Assassination of Jesse James by the Coward Robert Ford 2007, 15, Warner brothers and Django unchained are both recent westerns that were extremely well received. They are both different sub genres of western but they're key to bringing western films back to a popular genre.
-3 Actor/Producers of Westerns
Perhaps the icon of macho movie stars, and a living legend, Clint Eastwood has become a standard in international cinema. Clinton "Clint" Eastwood Jr. (born May 31, 1930) is an American actor, filmmaker, musician, and political figure. he rose to international fame with his role as the Man with No Name in Sergio Leone's Dollars trilogy of spaghetti Westerns during the 1960s, and as antihero cop Harry Callahan in the five Dirty Harry films throughout the 1970s and 1980s. These roles, among others, have made Eastwood an enduring cultural icon of masculinity.
Marion Mitchell Morrison, better known by his stage name John Wayne, was an American film actor, director, and producer. An Academy Award-winner, Wayne was among the top box office draws for three decades. An enduring American icon, he epitomized rugged masculinity and is famous for his demeanor, including his distinctive calm voice, walk, and height. John Wayne won a Best Actor Oscar for True Grit (1969). This came 17 years after his only other nomination. Wayne was also nominated as the producer of Best Picture for The Alamo (1960), one of two films he directed. The other was The Green Berets (1968), the only major film made during the Vietnam War to support the war.
Gary Cooper was an American film actor known for his natural, authentic, and understated acting style and screen performances. His career spanned thirty-six years, from 1925 to 1961, and included leading roles in eighty-four feature films. He was a major movie star from the end of the silent film era through the end of the golden age of Classical Hollywood.
Why are westerns failing? Why has there been a resurgence and if so has it been successful?
Since the dawn of film, the Western has been one of the great, durable movie genres, but its audience seems to be finally drying up. The Lone Ranger is the third Western to flop in four consecutive summers, and the most expensive to date. Capping a trend set by Cowboys & Aliens and Jonah Hex. Western fans are getting older and less diverse with respect to the overall population, and that doesn't bode well for the future. Other, newer genres like superhero movies and fighting-robot flicks have cowboy movies outgunned with younger generations and international audiences meaning the genre is going out of fashion, fast. However, because of the rebirth of a good western in Django unchained maybe the genre still has a fighting chance. The resurgence of Westerns has gone quite awry with as being stated earlier, 3 of the last four major westerns being a failure at the box office. I believe that because the success Django brought, along with the controversy, we can expect to see more westerns over the next few years as the resurgence continues, but because of younger more diverse audiences we will see directors try new methods of connecting with the audience which could result in a hit or miss situation at the box office. Hopefully for the sake of the genre let's hope the next western is great.
Why do/did westerns appeal to audiences?
The idea of being the 'macho man' and a cowboy was every childs dream
it was something many people could be seen to relate to but set in a different era
it brought intrigue as the genre shifted into different sub-genres and tested the waters with different plots etc. all while still sticking to the cliche of a western
Citations and bibliography
"The Guardian- Westerns." The Guardian. N.p., n.d. Web. 14 Sept. 2016. <https%3A%2F%2Fwww.theguardian.com%2Ffilm%2Ffilmblog%2F2013%2Fnov%2F08%2Ftop-10-movie-westerns>.
MY WESTERN FILM PLANNING-
CHARACTERS-
Main Protagonist 1 Played by Carlos Houghton
Main Protagonist 2 played by Izzy Fletcher
Main Antagonist played by Mackenzie Katz
Antagonist 2 played by Leke Shodunke
Antagonist 3 played by Louis Mathis
Antagonist 4 played by Max Desmir
Child played by Rohan Fogget
I followed the conventional character types included in the western genre, for example, the protagonist seeking revenge on the antagonists, and the revenge story based on the death of a loved one. However to add an unconventional twist to my western, rather than using a male cowboy for the main antagonist and protagonist in the shootout, i will be using a female main protagonist and antagonist .
PLOT-
The main protagonists in the film are seeking revenge on the four antagonists, who they watched killed their son. The antagonists make the protagonists watch as they murder their child, both protagonists filled with grief and anger seek vengeance. Throughout the beginning of the film we see flashbacks of the good times the protagonists have with their son and the gruesome death by which he died.  The protagonist and antagonists meet on an open field setting the scene for an awesome ballet of death and a shootout leaving only one man/woman left standing.
CINEMATOGRAPHY-
Throughout my western I used shots typical to that genre. I begin with a panning establishing shot, which established the location, the gloominess and gives the viewers a perspective of the action and gloom to come. I used close ups and mid-shots, as this exaggerates the actor's expressions and emotions and gives the viewer a great perspective. The majority of my shots are long shots or extreme long shot, which again reminds the audience of the setting and the characters within it. For example, during the church scene, I use a long shot to film protagonist 2 walk into the church and into the graveyard, his size compared to the church signifies his insignificance and how no matter how hard he tries he can never get his child back, but he can get vengeance.
PROPS AND COSTUMES-
In order to keep my western conventional, I have used costumes that signify the good and the bad. The main antagonist, wears a black bandana around her throat but other than that all the antagonists had very conventional western costumes consisting of waist coats and stensons. protagonist 2 wore a large black trench coat to show his darkness and the intention to seek vengeance. Beneath you can see some of my notes on each of the settings and the costumes as well as the editing i did, organisation of the characters, shooting script and the storyboard
Reflection
My role in this production was as the screen write, director, cameraman, editor and producer. When planning my film my strengths were in the fact I had depth to each of my characters, I've planned each of their personas and gave them time to create depth in each of their characters. This made it easier to film as they were all knowledgeable on their roles and how the scene was going to work beforehand which made it easier to film. However the weaknesses lied within the fact that some actors made unplanned dance movements in certain scenes which led to a need for more editing than originally needed.
My role in this production was as the screen write, director, cameraman, editor and producer. The strengths of this group were that because I planned out each and every scene there were less errors in filming unless we take as a characters knew what they were going to do.
Another strength would be that I was working with excellent actors and so that were less mistakes and retakes.some weaknesses were that I chose not so great actors who acted such as Louis which made filming more difficult.
My role in this production was as the screen write, director, cameraman, editor and producer. my strengths were that I had already got to grips with Final Cut Pro which made editing a lot easier for me than for most. And another strength would be that I had a good footage which made editing a lot easier.. however because of some of the outtakes that I didn't notice while filming I had a lot of work to do when editing such as McKenzie saying sorry and Louis dabbing. this subsequently I did to my editing time but also gave me more experience in using Final Cut Pro.
i'm proud of my end product and how well all of my actors worked and all of the great acting that came from this project and the Fact that now I know which actors I can rely on for my next piece. There's not much I would change other than maybe planning more scenes in advance. This is because I felt like I didn't have enough footage to make the film as long as I wanted originally. I have learned that you cannot always rely on your actors as they can sometimes ruin whole takes and scenes single-handedly.